By now, hopefully you have upgraded your iOS devices to iOS 6. Not only are there a lot of new features (like Apple Maps), but there are also some hidden gems, such as ad tracking. 
What is ad tracking?'
Ad tracking is a way for advertisers to track your iPhone, iPad or iPod Touch.  Fortunately though, Apple has added in the ability to limit ad tracking on your iOS 6 devices. – you just need to turn it on.
How to disable ad tracking on iOS devices

Disabling ad tracking on iOS devices is pretty simple – once you find the menu which is a bit hidden. By disabling ad tracking on your iOS devices, you'll see more unrelated ads because advertisers won't have the ability to access your information to serve up targeted ads.
Open your Settings > General > About
Scroll down to the very bottom of this screen and choose 'Advertising'
Toggle 'Limit Ad Tracking' on
That's it! For those of you who need a more clear explanation, I've also put together a short video tutorial on how to disable ad tracking on iOS devices below.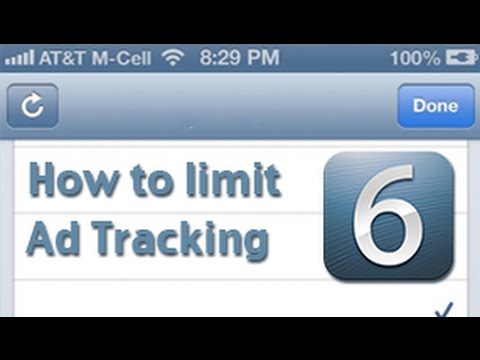 Overall, I like the fact that I can now disable ad tracking on my iOS devices.  Personally, I don't see an issue with receiving targeted ads based on my interests.  At least they're relevant to something I might be interested in clicking on at some point as opposed to ads that I'm not interested in at all.
How do you feel about seeing targeted ads on your iOS devices? Leave a comment below.