Are you frustrated with shooting poor stop-motion animation videos using Vine? With the Vine ghost tool, you can now make better videos.
For those of you unfamiliar with stop-motion animation, it's where you make an object move by itself. Here's an example of a stop-motion animation video on Vine.
As you can see, this requires you to shoot the objects in one place, stop your Vine video, reposition the objects, and shoot more scenes for the Vine video. Without alignment tools, this can be challenging to shoot.
Fortunately, Vine has added the Vine ghost tool, which now makes it easier to position objects when you are shooting stop-motion animation videos. For example, without the Vine ghost tool, you had to remember how you aligned an object in frame. Now, using the Vine ghost tool, when you record a Vine video, it saves the last frame.
This way when you need to stop shooting and move your object, you can easily realign the objects in your Vine videos.
Making better videos with the Vine ghost tool
To use the Vine ghost tool, follow the instructions below.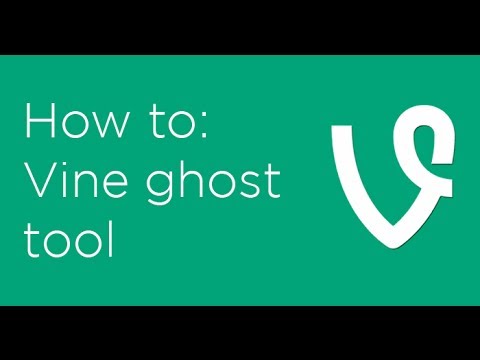 Launch the Vine app
Click on the camera icon
Turn on the grid (this is not required, but makes it easier to align your objects)
Turn on the Vine ghost tool
Shoot your Vine masterpiece and use the Vine ghost tool to help align your objects as  you move them
Better Vine videos means more sharing
The Vine ghost tool is a unique way to shoot better stop-motion animation videos. By using the ghosting tool to improve your videos, this can lead to more people wanting to share them – because they look more professional.
Remember though, not every Vine video needs to look professional. Some videos work great if they're a little rough around the edges.
Your turn
Hopefully you're trying out the ghost tool while you're reading this. I want to hear from you. Do you find it makes it easier to shoot your Vine videos? Is there an area where you get stuck using this tool? Leave a comment below and let me know.