Do you wish you could save multiple Vine videos? Now you can with Vine Sessions.
What are Vine Sessions?
Vine Sessions are a way for you to shoot and save up to 10 drafts of Vine videos for you to use later on.
Creating sessions on Vine is very helpful. Now, you don't have to focus so much on getting your Vine video right the first time because you can save multiple sessions and access them later on when you need them.
When you combine Vine Sessions with the Vine ghost tool and Vine focus tool you now have a very powerful set of tools to help you create amazing Vine videos.
Learn how to use Vine Sessions by following the instructions below.
How to create Vine Sessions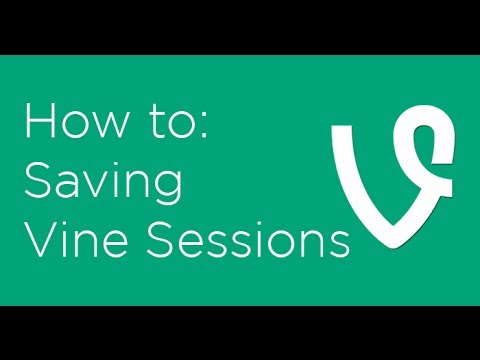 1. Launch the Vine app.
If you don't yet have the Vine app, you can download it for free here.
2. Record a Vine video
3. If you want to save a Vine session, click the paper icon in the right-corner and select "save for later."
4. If you want to discard your saved sessions, click the sessions icon and select "discard."
If at any point you need to delete any of your saved sessions on Vine, click the paper icon in the right-corner and then select the trash can icon on your Vine video.
Remember, you can only save 10 sessions at one time before you need to delete them.
Once you save a session, when you click the Vine sessions icon to view all of your saved sessions.
Here, you can switch to a saved session or select the camera icon to create a new one.
Wrap-up on Vine Sessions
Vine Sessions is a much-needed upgrade for Vine. It also pairs nicely with the Vine ghost tool and Vine focus tool to give you a lot of powerful tools that you can use to create stellar Vine videos.
What other features would you like to see Vine add to their app? Leave a comment below and let me know.