Joining both YouTube and Twitter (and I don't mean connecting the two) can have tremendous benefits for your business:
YouTube videos  can send major traffic to your website, plus you can embed videos on your website to deepen the experience for readers (which means more views)
Twitter is a great place to meet new people and broaden your network
Sharing content from your blog on Twitter can help bring in new readers
So why am I giving you 5 Reasons Why You Should Unlink YouTube and Twitter?
For the most part, most businesses are not using these two social networks properly.  Instead, what I see is a lot of this. Notice anything about the types of tweets they're posting on Twitter?
Not only are their tweets unoriginal, but they're cannibalizing any chance they have of growing their Twitter network. These types of updates are also hurting their business in the process and as a result, you should consider unlinking YouTube and Twitter (for now) because of these 5 reasons. 
5 Reasons Why You Should Unlink YouTube and Twitter
1: You Have No Social Media Strategy for Twitter
If you have no social media strategy for Twitter and you have your YouTube account linked to your Twitter account, you're not really doing anything to help grow your Twitter network.  Instead, you're just going through the motions.
A better approach would be to unlink YouTube and Twitter and take the time to come up with a solid strategy for how your business can leverage Twitter.
A good place to start is to use Twitter Search to identify influencers on Twitter (people you find interesting) who you can follow or add to a Twitter list.  This way when you have your strategy in place, you'll have a list of potential people to follow.
2: You Have No Social Media Strategy for YouTube
Pushing updates from YouTube to your Twitter account is not considered a social media strategy. Sure, it works for a while and you feel like you're doing your part, but again, you're not building a quality network.  Instead, what you're saying is that you haven't taken the time to figure out what you need to do so you're just going to have your Twitter account updated each time you upload a new video, post a comment, or create a new playlist.  If this is your idea of a strategy, you're better off using YouTube channel bulletins to message any YouTube subscribers to let them know why they should watch your latest video.
3: Your Twitter Feed is Automated
If you're not tweeting anything out on Twitter except automated updates like the ones above, you're not doing your business any good.  Joining Twitter and automating tweets (this is different than scheduling them) is not a strategy.  If you're scheduling them, this means you're taking the time to think about what you're tweeting and when you're tweeting.
Automated tweets just mean when you update one network, the same update goes out to another network. You're really just contributing noise to an already crowded place.  Also, the gains from using automated tweets are minimal. Just think, when was the last time someone retweeted your tweet such as the new playlist you created.  Minimal effort equals minimal rewards.
4: You Care About Your Customers
I've been harping on posting automated updates a lot. Not only do they show you don't have a strategy in place, but you're also telling your customers in the process that they don't matter to you.
But wait, I do care about my customers…
If you truly cared about your customers, you would value their time and wouldn't ask them to follow a Twitter account that's inactive or filled with automatic updates.  The best thing you can do for your customers is to unlink YouTube and Twitter and work on building a strategy for the networks your customers are on – so that you can add value for them.
For example, if you primarily use YouTube and Facebook and your customers do too, don't recommend that they follow you on Twitter too just because you want to get your numbers up. Instead, spend the time cultivating the relationship with them on the networks they are on. Once you build up a relationship with them on one network, you'll have no trouble getting them to join you on another because you've put in the time already.
5: You Care About Your Business
When you aren't posting to a social network on a regular basis and you advertise to your customers to connect with you on that network, you're doing harm to your business.  This suggests that you're too busy.
Some customers will be ok with this, but new customers might see this as a warning sign. If they cannot keep up with their social networks, how will they handle customer support questions?
If you care about your business, you will remember this – you want to add value for your customers.  If you're not able to keep up, don't set expectations for your customers and not be able to meet them.
By now, hopefully you're ready to unlink Youtube and Twitter and focus on the bigger picture – finding your niche on both sites and leveraging the two to build your network.
Watch this short video: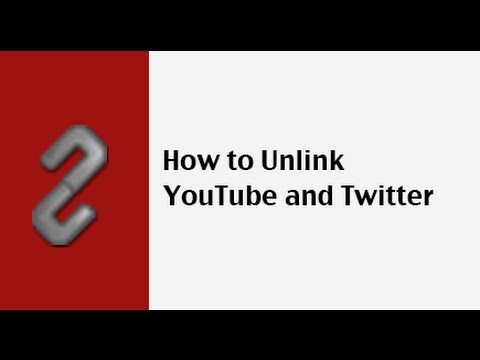 The Simple Step-By-Step Process To Unlink YouTube and Twitter
There are four simple steps to unlink YouTube and Twitter
Step 1: Login to YouTube.
Step 2: Click the dropdown in the top-right > YouTube Settings
Step 3: Select Sharing > Edit > Disable Activity Sharing
Step 4: Click Save
That wasn't so bad now was it?
Now I have a question for you…
If you were in your customers shoes and came across your business and saw that you were advertising that you were on Twitter, but only posted automated updates, what would you do? Leave your response in the comments.