Do you wish you could have a resource to help you locate the best places for travel or to conduct business at? With the recent announcement from Pinterest, now you can with Pinterest place pins.
What are Pinterest place pins?
Pinterest had this to say about Place pins:
Place Pins were designed to combine the beautiful imagery of a travel magazine with the utility of a map online so you can share it with friends.
So what does all of this mean?
To sum up things, Pinterest place pins are a way to create pinboards on Pinterest and include a map, location information such as a phone number, and an address that you can share with your followers or invite others to collaborate with you on to curate great places that people should visit.
To use Pinterest place pins, follow the instructions below.
How to use Pinterest place pins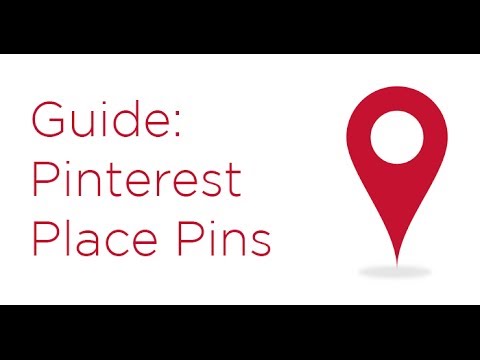 Step 1: Create a new place board on Pinterest.
When you are creating a new pinboard on Pinterest, you will have a map option.
Checking the map option will let you make it a Pinterest place pin.
Note: To add place pins to other boards, simply edit the board and turn on the map feature.
Step 2: After you add a map to your board, you will be prompted to add places to it.
Step 3: Adding more places
Search for new places to add Pinterest place pins for.
When adding new places, be sure to let you followers know why they should consider a place.
For example, below is a pinboard featuring great places to hold a business meeting. Instead of just adding the place, I might want to let my followers know why I consider this a good place to hold a business meeting.
This can include things such as WiFi, comfortable seating, and the ability to get coffee.
If a place has poor parking, I would also let my followers know this when I add a place pin. This way I'm providing the best possible information to my followers and they just may want to share it and tell others about this pinboard.
Step 4: Add new places to your Pinterest boards.
Once you add places to your boards, when users click into your pinboard, they will see all of the pins from those places.
When you select a pin, it will get highlighted in red.
Features of place pins
Pinterest + Foursquare
One area that Pinterest place pins does a great job with is pulling location information into your pins. To help ensure that the information is correct, Pinterest has partnered with Foursquare to get this.
This helps to ensure accuracy for a place that you pin.
Make your own places board
Pinterest place pins can be used in a variety of different ways.
For example, Airbnb features a places board for places loved by Parisians.
In my case, I've created a places board on good places to hold a business meeting at.
There really is no wrong way to use place pins. So get creative with the Pinterest place pins you create!
Collaborate with friends
After you create a board using Pinterest place pins, if you run out of ideas, ask your friends.
With place pins, you can invite your friends or other Pinterest users to add to the board.
You can even use Pinterest place pins to collaborate on Pinterest secret boards along with many other ideas.
This is a great way to strengthen your friendships and to collaborate more with your Pinterest followers.
Remember, the more you give back to your followers, the more likely they are to want to share your content with others.
Examples of place pins
To identify Pinterest place pins, look for the pinboards with the location icon in the right corner. Here is an example.
When a user clicks into a pinboard that has Pinterest place pins, they will see all of the places that have been pinned as well as the locations for those places.
Place pins on mobile
One other thing that always impresses me about Pinterest is that their features always seem to be mobile-friendly.
In the case of place pins, you can add create a new pinboard or view boards that have enabled place pins directly on your Android or iPhone.
This is especially convenient and works extremely well.
Where will you pin from next?
I'm extremely excited about the prospects of Pinterest place pins.
Leave a comment below and let me know what what you think about place pins and what type of board you plan to create first.
Will it be for travel, for business, or another area? Let me know!