Pinterest is a terrific resource to drive traffic to your website or blog. In fact, I find a lot more traffic comes from Pinterest than it does from other social media channels like Facebook. One way to leverage your Pinterest account to drive traffic back to  your website is to create great boards. Each time you add a new board though, remember to go back and rearrange boards on Pinterest.
Why rearrange boards on Pinterest?
If you've ever been to the grocery store, one thing you'll notice is that the products the store wants you to buy are always at eye level. The less popular ones (and usually less expensive ones) are on the bottom shelves, out of the your line of sight. This is because they want you to focus on the products they've put on the middle shelves. Crazy, but true.
So why are your Pinterest boards not arranged this way?
As the number of boards on your Pinterest account grows, it is important to go back and rearrange boards on Pinterest. Everytime you create a new pin board, it is added to the bottom. This means your followers (and any new users) won't see it if they go to your Pinterest channel because it will be below the fold and out of sight.
Because of this, you'll want to go back and rearrange your boards so that you have the most important ones showing at the top. This way your followers won't have to search through your boards. At the same time, this gives you the opportunity to put your best boards at the top – the ones you pin to often or want your followers to see and repin content from.
Don't forget about your business needs
As the needs of your business change, it is important to reflect these changes on your social media channels as well.
For example, if you are known for cooking, arrange your Pinterest cooking boards at the top and the boards you use less often towards the bottom.
While you're rearranging your boards on Pinterest, be sure to set a board cover for your boards too. This way they're easily identifiable and stand out.
Video on how to rearrange boards on Pinterest
To rearrange your boards on Pinterest, watch this short video: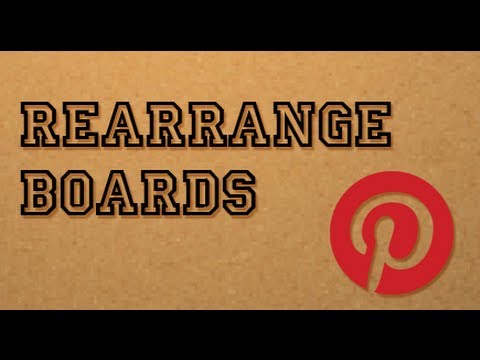 Visit your Pinterest account
Click and drag a board to a new location
Finished!
Yes, it really is that simple to rearrange boards on Pinterest.
If you found this post helpful, feel free to pass it on to other Pinterest users.
Question: How many boards do you have on Pinterest and do you find yourself creating new ones? Leave a comment by clicking here.