Are your holiday sales not where you want them to be? While there are just a few weeks left until Christmas, there's still plenty of time to increase your sales on your Facebook Page.
We have compiled a collection of 10 ways to increase holidays sales using your Facebook Page.
The great thing is that you can implement these now and see results immediately!
10 Ways to increase holidays sales on Facebook Pages
1. Plan ahead
If you missed Black Friday or Cyber Monday, there's still Green Monday (December 9) and Free shipping day (December 18).
We recommend keeping a calendar of events (download template). If you plan to run any sales, you can also add a Google calendar to your Facebook Page to notify your fans about upcoming sales that you will be holding.
Remember, the more you plan ahead, the more time you can spend promoting your products and sales!
2. Schedule posts ahead of time
Around  the holidays, everyone gets busy. That's why it is important to leverage some of the Facebook Page tools you have available to you to help you maximize your reach.
I'm a big fan of scheduling out posts when I know I am not going to be available.
This way I don't miss out on the rush of shoppers on Facebook.
A great way to determine what to schedule out is to look at the upcoming events and schedule out posts for those days.
If you haven't yet scheduled a post on your Facebook Page, here's a short video tutorial on how to schedule Facebook Page posts to increase holiday sales.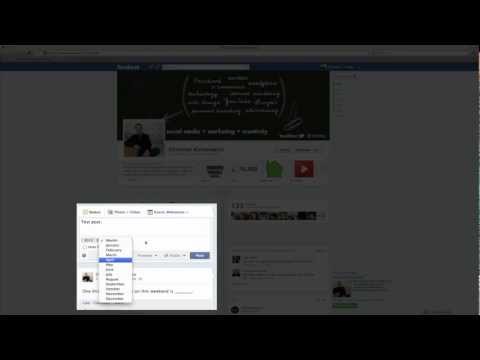 3. Last-minute buyers
Who doesn't love getting a deal? If you have a very small quantity of a product left and you want to get rid of it quickly, consider running a last-minute sale.
Instead of letting those products sit there, tell your fans about it.
One great way to reach more of your fans and to move your product is to boost a Facebook post.
4. Spread holiday cheer with great photos
Get your business in the spirit and spread a little holiday cheer!
Today, most people are using their smartphones to take great photos. Spruce up your products by taking them in a holiday setting and share them on your Facebook Page.
If they're available for sale, be sure you include a link to the product on your website.
5. Announce new products
Do you have a product that you just cannot keep in-stock?
If you have certain products that are in demand, make sure you let your fans know about them.
A great way to do this is to post a status update along with details about the products you just received restocked.
When announcing re-stocked products, don't forget to include a link to the product for fans.
If you have a lot of products you just restocked, consider using the boost post option to target certain a certain fan demographic.
For example, if you just restocked women's shoes, consider targeting just women.
6. Giveaway something
Facebook recently relaxed the rules for running contests. What this means is that you don't have to spend a lot of time creating a contest.
Here are 10 examples of Facebook contests you can run now that don't require a lot of work.
7. Leverage custom audiences for Facebook Ads
A great way to drive sales through your Facebook Page for the holidays is to leverage Facebook custom audiences.
Facebook custom audiences can help you use customer data such as phone numbers and email addresses to target them through a Facebook Ad or to promote a post such as the ones mentioned in this article.
8. Post your store hours
A lot of businesses overlook posting their store hours.
If you have store hours, be sure to post them. If your business extends their holiday hours, be sure to update them under Edit Page > Update Page Info.
9. Offer free shipping
If you want to increase your holiday sales, consider offering free shipping.
A lot of customers look for businesses that offer free shipping because it let's them purchase more while staying within their budget.
10. Run Facebook Ads
The businesses that are successful on Facebook use Facebook Ads.
If you think running Facebook Ads is very expensive, it can be – if you don't run them properly.
To increase your holiday sales, you'll want to make sure you take advantage of Facebook Ads (another powerful Facebook Page tool) to help your posts reach more people.
The more people you reach and the better your targeting is, the more holiday sales you can do.
Before running any Facebook Ads, be sure you've read the 20% rule for Facebook Ads. This way it doesn't delay the start of your Facebook Ads for rules or policy violations.
Your turn
Hopefully you're in full swing with your holiday sales. What other ways are you using to increase holiday sales on your Facebook Page?
Leave a comment below with your favorite holiday tips for increasing sales on Facebook!