One of my favorite new features in OS X Mountain Lion isn't reminders or Messages – they're pretty awesome in their own right. Instead, I've been using the dictation and speech tool.
If you're not familiar with this feature, what it does is it lets mac users speak to their mac – when composing emails, performing a Google search, writing a Microsoft Word document, sending and posting a status update in Facebook – among other applications.
To help you use dication in Mountain Lion, I've put together instructions along with a short video walking you through how to use dictation in Mountain Lion.
How to use dictation in Mountain Lion
Enable dictation
To begin using dictation, you need to enable it. To do this, go to System Preferences > Dictation & Speech > Dictation.  Here, you want to select "on" under Dictation.
By default, you can enable dictation on your mac by pressing the fn key two times. If you would like to change this, under the shortcut menu, select an alternate key combination or create a custom combination.
When you're finished, close the window and you can begin using dictation.
Give it a command
Dictation can handle text as well as shortcuts. Before beginning, take a look at these 50+ dictation shortcuts in OS X Mountain Lion to give you an idea what commands your mac can recognize.
When you're ready, simply launch your favorite application and click to where you would normally type. This time, hit the function key twice (or whichever keyboard shortcut you setup for dictation). A microphone icon should appear and your computer should beep, prompting you to begin speaking. When you're finished speaking, press the shortcut key you set up or the "done" button. Your voice will now be transcribed into text.
From the tests that I have performed, dictation in Mountain Lion is pretty accurate, not to mention fast too!
If you're still stuck, don't forget to watch this short video on using dictation in Mountain Lion.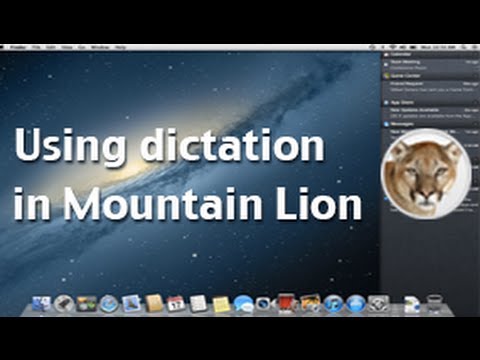 For those of you who have used dictation, are there any words you've had trouble converting?