Did you know, you can send voice messages to friends using a feature called Facebook voice messages.
While Facebook voice messages was announced back in January, it's a feature a lot of people overlook – probably because they don't know it exists.
What are Facebook voice messages?
Facebook voice messages are another way for you to communicate with friends on Facebook.
Voice messages let you record a message and send them to a friend.
There are plenty of times when you would want to send a Facebook voice message instead of typing out a message.
Here are a few examples of how you can use Facebook voice messages.
Send a birthday message
Congratulate a friend on a new job promotion
Send a message to a loved one
Send a congratulatory message to a new business owner
And more…
Learn how to send Facebook voice messages using the following instructions.
How to send Facebook Voice Messages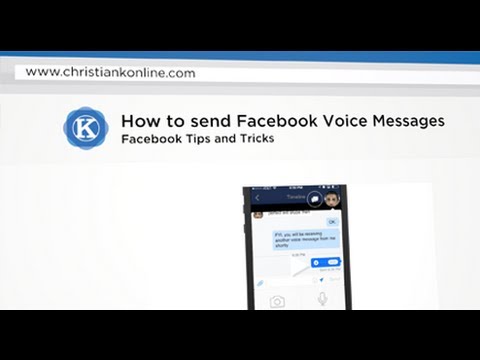 1. On your mobile device, launch Facebook Messenger or the Facebook mobile app
2. Click on a friends name and select message
3. In a message, click on the paperclip icon. Select "Record voice"
4. Press and hold on the record icon to start recording
When you are finished with your message, let go to send it.
If you would like to cancel your recording, slide your finger away from the record button (before you release it).
Facebook voice messages are a great way to create a more personal moment with the people you are connected with.
If you still have questions on using Facebook voice messages, we've compiled some frequently asked questions to help you.
Common questions about Facebook Voice messages
Can I save a Facebook voice message?
Facebook voice messages are stored within the Facebook messages conversation thread.
Can I send a voice message from the desktop version of Facebook?
No. You cannot send Facebook voice messages from a desktop. You can listen to them within Facebook Messenger though.
How do I delete Facebook voice messages?
To delete a voice message in a Facebook Message on the mobile app, press and hold on the message. Tap the delete button that appears.
What devices do Facebook voice messages work on?
Facebook voice messages works on iPad, iPhone, and Android at the moment.
I have additional questions about Facebook voice messages. Who can I contact?
If you have additional questinos about voice messages, there's always the Facebook help forum for Facebook Voice Messages.
Wrap-up
Facebook voice messages is a terrific way to personalize your conversation with your friends.
If you haven't tried Facebook voice messages, I highly recommend it. The audio quality seemed pretty good and it was convenient when I wanted to send someone a quick note and I didn't have a free hand.
Have you tried Facebook voice messages yet? What did you think of it and how are you using them? Leave a comment below with your feedback.