Facebook recently added a new feature called promoted posts, aimed at helping you reach more of your fans. While this means you can promote any of your Facebook posts, it is important to remember that every piece of content should not be promoted. Think of it as a tool to use for only your best content.
For business owners, it is very important to know what kinds of posts you should promote, because the more you post and overwhelm your customers, the more likely they are to unlike your page or hide it from their newsfeed. You wouldn't want that, would you? That means lost revenue and lost opportunities to get more eyes on your content, not to mention it could lead to poor word of mouth marketing to other customers.
So what should you promote?
Ideally, you should be very selective about what you post. You also want to make sure that whatever you are posting about is something that is a result producing activity – meaning something that will get users to take an action. If you're just sharing news that has already been written about across a number of other websites, running a promoted posts may not be ideal, because you most likely won't get the "pop" that you were expecting from fans. Instead, focus on posts that will help your business reach its own goals.
Here are five different types of content that you should consider using Facebook promoted post for.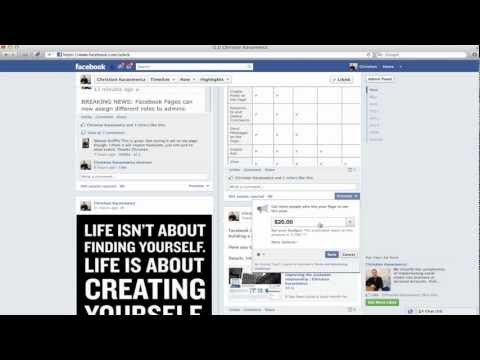 Contests
Contests are successful when you get entries. If you spend any time over one minute on a contest and end up with just a handful of entries, then it failed.
Running a contest on Facebook isn't about having the best prize, it is about getting exposure. In a world where our newsfeed moves so quickly, that can be challenging. For this, I recommend creating a landing page for your contest and then using promoted posts to promote your landing page to fans – voilà! Entries.
Subscriptions and email sign-ups
A second thing to promote with Facebook promoted posts is your email newsletter. We all want more people to view our content on our blog or website, right?  What better way then to have them sign-up for our email newsletter or to subscribe to our blog?  One of your goals should be to build this list over time, because this is your lifeline for your business. Without customers constantly visiting your website or reading your blog, you're only treading water.
Give your email newsletter a boost by creating a landing page on your blog or even using one of these 5 landing page tools to create a simple newsletter sign-up and then promote it using Facebook promoted posts. This is something you should promote often, possibly once per month.
Content that could go viral
Did you create a new video for a product you just launched? If you want more people to see it, now is the time to use Facebook promoted posts. This same principle also applies to interviews that were written about your brand as well as some (not all) of your blog posts.
When deciding what content to promote, be sure to ask your close friends first if this would be something they would consider sharing. Ideally, you want something that will get someone to share it right away without thinking twice.
Products
The great thing about Facebook is that it is very inexpensive for business owners to get the word out about their product, especially using Facebook promoted posts. What this means is that now anytime you have a new product coming out, you can promote it without breaking the bank before you've sold your first product.
Remember, only pick products that might trigger a customer to take an action by sharing it or buying it. These should include site-wide sales, limited-time discounts – you can also consider promoting a product that recently garnered press from other websites or publications.
Facebook Offers
Just like contests, Facebook Offers require a little nurturing. You cannot just slingshot it out onto a Facebook Newsfeed and expect lots of people to start claiming it. In most cases, they probably didn't even see your offer, as the average Facebook post is only seen by roughly 5% of your fans (if even that).
With Facebook Offers, your goal is to get people to claim your offer and then to visit your website.  If only a handful of people are seeing it, don't expect a lot of people to claim it and don't expect a boost in website traffic.  That's where  Facebook promoted posts can lend a helping hand. Create your offer – make it compelling and promote it over three days. More people seeing it and claiming it means more people sharing it and telling their friends too!
Wrap-up
One thing to remember, I'm not suggesting to break the bank and go crazy with promoting all of your content on Facebook. Sure, Facebook probably wants you to do that, but as a business owner, you need to consider what is right for your business and also right from a financial sense.
Be selective about what you are promoting – and think about your fans and customers in the process. What you consider to be great might not be so great to them – and what is important? Getting customers excited about your business so that they will tell their friends without thinking twice.
What other types of content would you consider using Facebook promoted posts for? Leave a comment below with your thoughts.